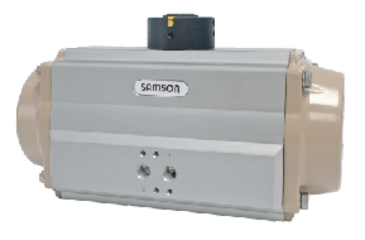 ROTACTOR® RP 3171
Rotary pneumatic actuator

USAGE

On/off service
Throttling service
Manual operation
ACTUATOR MOTION
Rotary
RATED ANGLE
90°, 120°, 135°, 180°
SUPPLY
Pneumatic
VERSION
Standard

FAIL-SAFE ACTION
Reversible

Special features
For remote operation (on/off or modulating duties) of industrial valves such as ball valves, butterfly valves and plug valves as used in process industries like chemical, petrolchemical, pharmaceutical, water treatment, oil & gas
Alodur® hard anodized extruded aluminum body for corro¬sion protection, low friction and wearing resistance
• Dual piston rack and pinion design for compact construc¬tion and symmetric mounting.
Fully machined teeth on piston racks and pinion shaft for accurate positioning, low backlash and maximum engagement.
Two indipendent external travel stop adjustments.
Universal and anti-blowout drive shaft with multiple valve connection options.
Identical body and end caps for double acting and spring return configuration to allow field conversion.
Stainless steel fasteners for high corrosion resistance.
Multiple bearings and giudes for high cycles and low friction
Modular preloaded springs.
Extended working temperature range as standard.
Options
Actuator with gearbox
Block and safety lock-out system
100 % travel stop limitation in both opening and closing direction
Fast acting
Stainless steel version
Information
Support
Certificates
Only up-to-date documents are shown in the product selector. Check the documentation site for a list of all documents available.