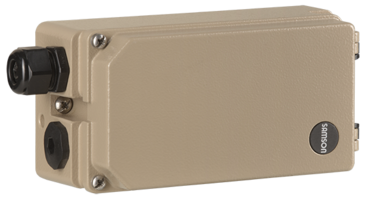 3730-0
Electropneumatic positioner

PRODUCT
Positioner
USAGE

Challenging transit times
Challenging ambient conditions
Throttling service
ATTACHMENT TO

Linear actuator, single acting
Linear actuator, double acting
EXPLOSION PROTECTION

Without certification
Type of protection "Intrinsic safety"
COMMUNICATION

CONTROL LOOP

OPTIONAL SOLENOID VALVE

VALVE DIAGNOSTICS

Special features
Electropneumatic positioner
Die-cast aluminum or stainless steel housing
Attachment to linear actuators according to IEC 60534-6, VDI/VDE 3847, or SAMSON integral attachment
Attachment to double-acting actuators with Type 3710 Reversing Amplifier
Any mounting position possible
Calibrated travel sensor without gears susceptible to wear
Analog pneumatic output prevents pulsing in case of leaking actuator
Fast-reacting analog control loop
High control accuracy (fine tuning) without dead band and continuous pneumatic output
Two-wire system with small electrical load below 300 Ω
Output pressure limitation adjustable on DIP switch
Selectable tight-closing function with fixed switching point
Low air consumption of approx. 110&nbsp
ln/h independent of supply and output pressure
Aluminum housing with IP 66 degree of protection
Check valve in the exhaust air port
Resistant to shock and vibration
Extended temperature range also for intrinsically safe operation
Travel range selectable within the rated travel range using DIP switch
Zero and span adjusted by potentiometers
Set point range and direction of action adjustable on DIP switches, e.g. for split-range operation
Information
Support
Certificates
Only up-to-date documents are shown in the product selector. Check the documentation site for a list of all documents available.