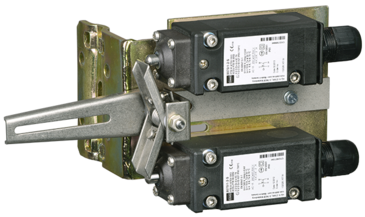 4744
PRODUCT
Limit switch
USAGE

Throttling service
On/off service
ATTACHMENT TO

Linear actuator, single acting
Linear actuator, double acting
EXPLOSION PROTECTION

Without certification
Type of protection "Flameproof enclosure"
COMMUNICATION

CONTROL LOOP

SWITCHING ELEMENT

OPTIONAL SOLENOID VALVE

VALVE DIAGNOSTICS

Special features
Electric limit switch
Optionally, one or two electric limit switches (possible to override)
Attachment to linear actuators according to IEC 60534-6, SAMSON direct attachment, or attachment to rod-type yokes of the SAMSON Series V2001 Valves
Attachment to rotary actuators according to VDI/VDE 3845
High load capacity, e.g. alternating current up to 500 V/10 A
Information
Support
Certificates
Only up-to-date documents are shown in the product selector. Check the documentation site for a list of all documents available.