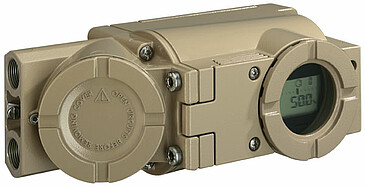 3731-5
Electropneumatic Ex d positioner with FOUNDATION™ fieldbus communication

PRODUCT
Positioner
USAGE

Challenging transit times
Challenging ambient conditions
Throttling service
ATTACHMENT TO

Linear actuator, single acting
Linear actuator, double acting
Rotary actuator, single acting
Rotary actuator, double acting
EXPLOSION PROTECTION

Without certification
Type of protection "Flameproof enclosure"
COMMUNICATION

CONTROL LOOP

OPTIONAL SOLENOID VALVE

VALVE DIAGNOSTICS

Special features
Electropneumatic Ex d positioner with FOUNDATION™ fieldbus communication
Die-cast aluminum or stainless steel housing
Attachment to linear actuators according to IEC 60534-6 or SAMSON integral attachment
Attachment to rotary actuators according to VDI/VDE 3845
Attachment to double-acting actuators with Type 3710 Reversing Amplifier
Integrated EXPERTplus diagnostics for control valves
Integrated function blocks: 1 PID Control (PID), 1 Analog Output (AO), 1 binary input for DC voltage signals (DI1) or for connection of a floating contact (DI2)
2 DI function blocks to analyze binary input signals
Any desired mounting position of the positioner (but not suspended)
Simple one-knob, menu-driven operation also in hazardous areas
Easy-to-read display in any mounting position thanks to rotatable reading direction
Configurable with a computer over the SSP interface using the TROVIS-VIEW software
Variable automatic start-up thanks to four different initialization modes
Preset parameters, only values deviating from the standard need to be adjusted
Calibrated travel sensor without gears susceptible to wear
Sub (substitution) initialization mode allows the positioner to be started up in case of emergency whilst the plant is running without having to change the valve position.
All parameters saved in non-volatile EEPROM
Two-wire system with small electrical load between 300 and 350 Ω at 20 mA
Adjustable output pressure limitation
Adjustable tight-closing function
Automatic zero monitoring
Integrated temperature sensor and operating hours counter
Self-diagnostics
Messages as condensed state conforming to NAMUR Recommendation NE 107, issued over a fault alarm contact or optional analog position transmitter
Accessories
Options
Device compatible with paint
Additional equipment: binary input, forced venting function
Information
Support
Certificates
Only up-to-date documents are shown in the product selector. Check the documentation site for a list of all documents available.